COVID
Dr. Michael Mina has been advocating for the widespread use of at-home antigen tests since 2020.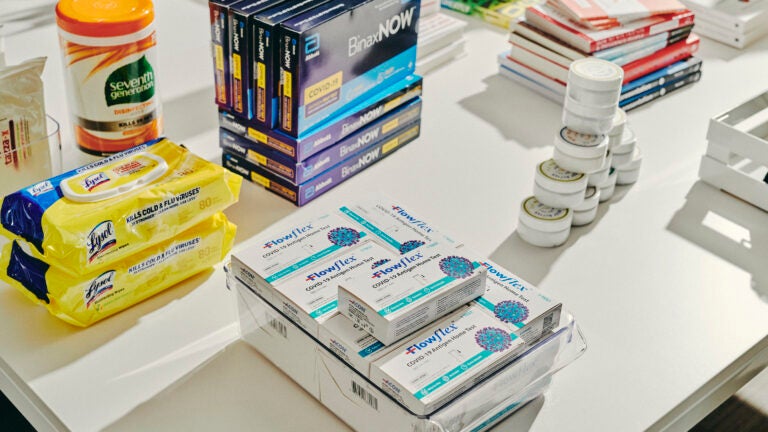 The demand for COVID-19 tests remains high across Massachusetts and the rest of the country as the highly contagious omicron variant continues to drive surging coronavirus cases.
President Joe Biden announced on Thursday that the federal government will double the number of rapid, at-home antigen tests that will be distributed to Americans for free, a development that comes as testing sites in Massachusetts continue to be plagued by long lines and wait times.
Dr. Michael Mina, an epidemiologist who formerly served as an associate professor at Harvard University, has been advocating for the widespread, accessible use of at-home tests to combat the pandemic since 2020.
In a Monday appearance on the podcast "In the Bubble with Andy Slavitt," Mina said he believes the at-home tests have become too expensive. 
"We expected a free market competition to bring prices down in this domain," the doctor told Slavitt, who is a former White House senior advisor for the nation's COVID-19 response. "My concern is, this is a public health good, this is a public health need and, probably, I wish that the administration would do more to work with the manufacturers."
Mina, who is currently Chief Medical Officer at eMed, a digital point of care platform, addressed the current state of the pandemic with omicron, which he noted is detectable during an earlier stage of infection, and answered a range of questions from the public about testing during the Monday episode. 
According to Mina, there are currently three types of COVID-19 tests available in the United States: diagnostic PCR tests, rapid PCR tests, and rapid antibody tests.
"We have laboratory PCR, that's the most sensitive, what that does is it looks for the nucleic acids, or the genetic code of the virus," the doctor said on the podcast.
Rapid PCR tests, although similarly named to regular PCR tests, use a different process, he explained.
"They're not quite as sensitive as PCR, but they're a little bit more sensitive than antigen tests," he said.
This difference in sensitivity between PCR, rapid PCR, and rapid antigen tests affects how soon the virus will be detected by the test after initial infection, according to Mina, with the difference ranging from a couple of hours to a couple days.
"A laboratory PCR might turn positive, let's say on day two or three," Mina said. "Rapid at-home molecular lamp assay [rapid PCR] might turn positive at day three or four, and the rapid antigen tests might turn positive at like day three-and-a-half to four-and-a-half.
Below, a look at some of the questions about testing the doctor addressed on the podcast. 
When might we actually find more tests available at Walgreens or CVS?
"People should expect to start seeing these in greater supply as we move into the latter part of January, February," Mina said "The Biden administration has done a good job now at trying to procure these tests for Americans."
But Mina also said he believes the rapid tests have become too expensive.
"We expected a free market competition to bring prices down in this do